Kim Plommer, Dental Hygienist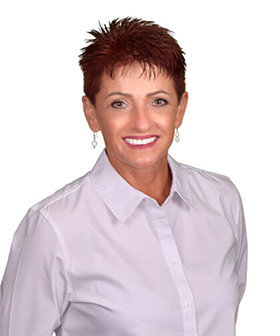 Kim Plommer grew up going to the dentist more than most, due to a congenital lack of adult teeth. Thanks to the kindness of her pedodontist, this experience shaped her positively and eventually helped inspire her to become a dental hygienist. For 36 years, she has enjoyed the opportunity to educate patients about their oral health, bring comfort to reluctant patients, and see a dramatic difference after cleanings. Getting to work amongst close friends at a top-notch dentistry practice is the icing on the cake for her.
Growing up in Ontario, Canada, Kim always hated the winter. After visiting her aunt's and uncle's winter home in Naples, she knew she was not waiting until retirement to move here herself! Since 1990, she and her husband of 37 years, Gerry, have soaked up the year-round warmth of Naples, which they now share with their three Goldendoodles, Ella, Grace, and Peach. Their two adult daughters, Alison and Amy, live in Seattle and Jacksonville. In her free time, Kim stays active with paddle boarding and high intensity interval training.

Click here to return to the team page.